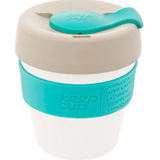 We're in December, and it's the time when present shopping urgency starts to ramp up!
Today we have a mixed bag of ideas for you to help you get that list ticked off.
Do you have some other suggestions? Please comment below, and let us know what's on your list – for yourself and others!
KeepCup – Design Your Own (Medium) – @ keepcup.com.au – $14
A barista standard reusable cup, KeepCups are made from plastic so they are lightweight, easy to carry and are BPA free. KeepCups are dishwasher safe, microwavable and splash proof, plus they fit into most car cup holders and bicycle bottle holders. The best part – you can design your own!
Small Blackboard @ The White Shed – $21.95
Gorgeous small white blackboard. Perfect in your kitchen or kids room, but also a great party styling accessory. Why not display some carol lyrics on it this Christmas! 38xm x 22cm.
Marvis Cinnamon Mint Toothpaste @ Brown Button Trading – $11.95
"Tasting Notes" – an unusual. aromatic mixture that emits the tropics' luminosity. An original aroma that captivates at the first taste. Italian style and quality at its best – in a toothpaste! A chic addition to your own bathroom or a unique and beautifully packaged gift for someone. Also comes in, Aquatic, Classic Strong, Ginger, Jasmine, Whitening and Licorice!
Gator Tote @ From Little Things – $13.95
These funky Gator Tote bags are ideal for outdoor or indoor play or storage. Made from easy-clean, strong yet soft polymer and featuring drainage and airing holes, the bags are perfect for toys or swim gear.
Outliving Robot by @ SheShopped – $16.95
Wind-up robot. Outliving Robot is a beautifully handcrafted piece that comes with a key that winds up the robot, enabling it to walk.Outliving Robot is a great collectors item for lovers of robots or anything quirky and fun. 
Scrabble Fridge Magnets by General Pants Co. @ Westfield – $14.95
Play a game or send cryptic messages, these Scrabble fridge magnets are practical and fun!
Collapsable Pet Bowl by Dexas @ Chalet – $16.95
Dexas International's Popware Pet Bowls expand for use and collapse for transport or storage. Collapses to less that 3/4 inch thick. Great for travelling, camping or everyday use.
Picnic at Hanging Rock by Joan Lindsay @ Bookworld.com.au – $14.39
Recently voted number #10 in the First Tuesday Book Club's 10 Aussie Books To Read Before You Die, Picnic at Hanging Rock, the story of vanishing schoolgirls is eerie, haunting and thrilling – an Australian classic. Introduce this story to a loved one with this gorgeous edition from Viking. 
Rubik's Cube Mug by Australian Geographic @ Westfield – $19.95
For a retro flashback, this ceramic mug is great for coffee, tea or a hot milo!
Glass Purse Hanger by Jens Studio @ Etsy – $18.00
This purse hanger will keep your lovely handbag or purse off the ground and safe while you have dinner at a restaurant, have a drink at a bar, or sit at a conference table. It is compact and light, weighing only 55 grams. 
Running out of time to do everything? Don't forget you can take advantage of our Dasher & Blitzen Christmas packs. Click here to find out more.