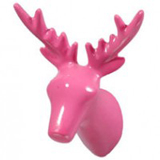 Buying gifts for the women in your life is either the easiest thing (most women think so!) or the hardest thing (I'm sure the men would agree) to buy at Christmas. 
Today I want to offer you some ideas and inspiration – plus I will be directing you to some wonderful websites with many other great gifts for sale.
Do you have some other suggestions? Do you have a product we might like to feature? Please comment below or email abbie@lifestyleelements.com.au
Ok, here we go!
'Journey' Charm by Palas Jewellery – $26.40
This charm is made in Sterling silver (925) and brass and is 22x22mm. Charms can be placed on any of the Palas chains, wristbands, lariats or bracelets (see 'separates > chains and wristbands'). Palas jewellery is hand crafted in sterling silver (925), brass and bronze. 
Aqua Chevron Salad Bowl by Escape to Paradise @ From Little Things – $59.95 plus P&H
Made from environmentally friendly bamboo and hand painted. Great for summer entertaining plus salad servers are sold separately.
Mr White Wall Clock by Karlsson @ The White Shed – $179.95
This steel wall clock with numbers is light and bright with a simplistic design that will compliment any decor. Large: Diameter 51cm, H. 7cm
Phoebe Lamp @ From Little Things – $
The Phoebe lamp is a truly original concept. It is designed in a way that allows you to change its appearance. It comprises an insert panel held in place by two pieces of plastic. By inserting any paper, poster, photograph, map, news-clipping, or even fabric, you can transform your lamp into a new look in minutes. 66cm tall with a diameter of 18cm. Or you can get the A3 size that is 30cm tall with a diameter of 14cm.
Pink Deer Hook @ Brown Button Trading – $22.00
A dear little Deer Hook….. Easy to attach to a wall or the back of a door. Screw and plug is included. Also available in black, white and red.
Jaipur Painted Metal Jug in Mehndi & White @ Brown Button Trading – $49.95
Gorgeous painted metal jug to team with matching tumblers and tray – or mix it up a bit and fill with flowers perhaps? Jaipur is a capital city in India, also known as the 'pink city'. Also available in pink, indigo and cornflower blue. Height – 18cm
Turf Paperweight by Danielle Rickaby @ SheShopped – $98.00
Now for something a little bit different a turf paperweight!  It is all made of glass. Great gift for office space or a coffee table conversation starter. Great for someone with a green thumb. 
Photo Wallpaper Mural by Canvas this @ SheShopped – $POA
Use an old picture and have it blown up as wallpaper. What a sentimental way to bring instant character and warmth to a space!
A-Z Bookend Set @ The White Shed – $54.95
A-Z Bookend Set. Style your bookcase or desk with these funky bookends. Height 14cm
World Coin Earrings by Palas Jewellery – $39.60
Each coin has been hand selected by Palas for every piece of jewellery in the world coin range. Each jewellery item will be set with a different world coin. Coins are from countries including Italy, France, Greece, Denmark, China, Indonesia, Spain, New Zealand, America, India and Japan. 
Featured Sellers
Palas Jewellery is an international Australian jewellery brand. I have the pleasure of designing the complete Palas Jewellery collection with love, sincerity and passion. My designs are beautifully translated into handcrafted pieces by expert silversmith in Indonesia. Palas is available in over 600 beautiful jewellery, lifestyle and fashion stores throughout Australia, New Zealand and Japan and continues to grow!
She Shopped provides it's loyal followers with the best of the web. How do they do it? They spend their days trawling the Internet for the best stuff (tough job but someone has to do it), then they share it with you and show you where to buy it. In short they are all your favourite online stores in one spot.
from little things, where you will find all things stylish for the little people in your life. As a family run business with 4 gorgeous children in it, they know just how busy life can be. Their aim  is to bring you items they have fallen in love with.
Brown Button Trading is an opportunity for lovers of exquisite home wares, quality stationery, perfect gifts and stunning jewellery to shop online. So whether you are currently searching for a gift in your lunch break at your desk, doing a spot of shopping late at night after getting the kids to bed, or in a remote location void of any opportunity to otherwise shop for something special…… thank you for letting me share with you a few of my favourite things xx