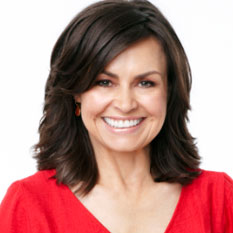 Yesterday I had the pleasure of attending the Crows Foundation Ladies Luncheon. The room was full of energetic, happy, generous women; it was a wonderful afternoon.
The lunch was chock full of action, including an auction, a Liza Emanuele fashion parade, and a silent auction (which we were proud to contribute to). The highlight for me however, was the wonderful keynote presentation delivered by The Today Show's Lisa Wilkinson.
Lisa was funny, inspiring and moving. She took us through the story of going from high school to 'Girl Friday' of Dolly magazine, becoming it's Editor at the age of 21! She talked of how she moved to editor of Cleo (headhunted by Kerry Packer himself) and all the way to her current role as co-host on The Today Show. Lisa also told us the story (at length and in detail which I loved!) of how she met her husband, the well-known author and former Wallabies Rugby Player, Peter Fitzsimons.
In a room full of women, one of the key messages Lisa delivered  was to try to move beyond the idea that as women we should be able to do everything. Yes, getting up at 3am every week day (I shudder just thinking about it!) and having 3 children means Lisa has simply had to accept that she can't do everything. From her speech I learnt that juggling all the balls is only possible, most of the time, if you keep on top of your communication. Lisa's communication with her husband, her children and her work colleagues is crucial in ensuring she can manage some sort of work life balance.
The other thing that struck me was that whenever her contract comes up for renewal, it is her husband and kids who have the final say. Lisa said that as soon as they said 'no more', she would give up The Today Show. Simply, her family was the most important thing in her life.
In reading an interview with Lisa Wilkinson on MotherInc.com.au Lisa gave me some great insight into her views on work life balance:
"I'm like most mums who are either in full time or part time work or are full time mothers, you have your good times and your bad. I just manage the keep the balls in the air about half the time and as a mum that's not a bad strike rate." 
"When I started with the Today Show we thought it would be great because our body clocks would be more aligned as we were both getting up early. We thought we could balance it and essentially we thought we were making it work. But six months later we were both so tired at the end of the day so Pete gave up breakfast radio."
And my personal favourite – "I have spoken with lots of other women who do breakfast radio and television and they have given me some advice. They have said the first six months you'll feel like a superwoman getting everything done and in bed by 10.30pm. After six months you have to learn to make peace with yourself and realise you can't do it all and you'll be in bed by 7.30pm! I'm at that stage now and I'm learning that I don't have to be in control of all the little details, that I can let other people take some of the slack."
Often we see celebrities as far removed from us. We see them as either superhuman or so rich they can afford to hire people to help with everything in their lives. It is nice to peek behind the curtain and realise that for the most part they are just like us, with the same issues and guilt and balls to juggle.
Everyone on my table at the Crows Foundation Ladies Luncheon agreed that Lisa was just like she appears on TV – funny, self effacing and down to earth. A great speaker, and I imagine, a wonderful woman to be around!
P.S. Thank you to Adele Basheer from Intrinsic for the invitation to join her table!