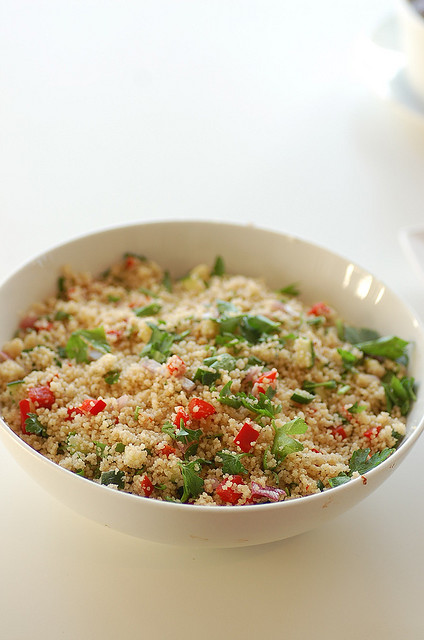 I don't know about you, but after a busy day, I just don't have the energy to spend a few more hours preparing dinner. Today we're all so frantic dashing between family, work, keeping up with our blogs and social media profiles, and trying to keep fit and healthy, that cooking tends to take a bit of a back seat. We want food preparation to be quick and easy – and it can be – with the right recipes.
I have to admit I'm a big fan of salads and fresh herbs like parsley, coriander and mint. So my top five dishes are definitely skewed towards the salad end of the spectrum, with an emphasis on  colourful veggies. Besides being super quick to prepare, another plus of these recipes is that you can make these dishes with or without meat.
1) Vietnamese Noodle Salad
I'm always up for a Vietnamese noodle salad. The combination of tanginess and fresh ingredients gets me every time. It's also very versatile in that you can easily add some fresh prawns or chicken  for meat-eaters.
Ingredients
1/2 small red onion (or one shallot)
3/4 cup (or a large handful) or roughly chopped coriander
3/4 cup fresh mint
1/2 small red chilli (could be less according to personal taste and the strength of the chilli)
1 packet rice noodles
2 carrots finely chopped
1 cucumber
handful of bean sprouts
a handful of finely chopped wombok (Chinese cabbage)
1/4 cup finely chopped unsalted peanuts
Sauce
1 Tbsp brown sugar
1 Tsp fish sauce
1 Tbsp peanut oil
1/4 cup fresh lime juice
1 clove garlic crushed
Directions
Soak the noodles in boiling water for 5 minutes or until cooked. Drain. Rinse under cold water and drain.
Combine fish sauce, sugar, chilli and lime juice in a bowl, stirring to dissolve the sugar.
Toss noodles, beansprouts, mint, coriander, onion, peanuts and lime juice dressing in a bowl. Serve.
2) Prawn and Asparagus Pasta
Ingredients
1 garlic clove crushed
1 small red onion thinly sliced
2 Tbsp olive oil
1 long red chilli finely chopped
400 g fresh prawns, peeled, deveined
1 bunch asparagus, trimmed, cut into 2 cm sections
1/3 cup dry white wine
160g angel hair pasta
Method
The thing that takes the most time in this recipe is peeling and deveining the prawns. If you're really short on time, buy a packet of frozen prawns that have already been peeled and deveined.
Cook pasta in a large saucepan until al dente. Drain.
At the same time, heat the oil in a frying pan over medium heat and cook the onion. Add garlic, a sprinkling of chilli and prawns. Cook until the prawns are pink. Add the asparagus and white wine. Cook while stirring for a couple of minutes.
Combine the pasta with the prawn mixture, toss and serve. Add salt and pepper or a squeeze of lemon to taste.
3) Beetroot, Goat's Cheese, Walnut, Spinach Salad
This one is definitely on my summer-picnic-greatest-hits list, but it's so easy to prepare, there's no reason not to make it at home!
Ingredients
450 g can baby beetroot
100 g soft goat's cheese, crumbled
3/4 cup walnuts
150 g baby spinach leaves
Dressing
2 Tbsp lemon juice
1/4 cup extra virgin olive oil
1/4 cup Balsamic vinegar
1 tsp Dijon mustard
Sea salt and ground black pepper to taste
Method
Combine the lemon juice, olive oil, balsamic vinegar, mustard, salt and pepper in a small bowl and whisk.
Wash the spinach leaves and combine in a salad bowl with the walnuts, beetroot and goat's cheese. Add the dressing, lightly toss and serve.
4) Roasted Summer Veggies with Chickpeas
Ingredients
2-3 garlic cloves (leave skin on)
2-3 small red onions (leave skin on)
2 zucchinis
1 eggplant
2 red capsicums (or one yellow capsicum)
3 large potatoes or a handful of small ones
1 sweet potato
400 g chopped tomatoes
400 g can of chickpeas
– either small bunch of chopped coriander – or parsley
Method
Chop veggies (leave them chunky) and put them in a large roasting tin. Add a good dash of olive oil, sea salt and ground pepper, and toss. Spread into a single layer and roast for 45 minutes, turning the veggies a couple fo times until they're roasted and the potatoes are cooked through.
Take the tin with the veggies, put it on the stove top on a low heat and add the tomatoes and chickpeas. Simmer and stir. Add the chopped coriander or parsley at the end as a fresh garnish. Serve.
5) Fresh Couscous Salad
This fresh and tasty salad just takes 15-20 minutes preparation time. The basics are super quick and you can add extra ingredients – depending on what you have in the fridge and how hungry you are. For added zing throw in some black olives, spinach or rocket leaves, haloumi, or chicken.
Ingredients
225g couscous
250 ml chicken stock or vegetable stock
1/4 cup olive oil
1/2 a red onion or 1 shallot
1 Lebanese cucumber cut into small pieces
1/2 red capsicum, remove seeds, cut into small pieces
1 yellow capsicum, remove seeds, cut into small pieces
a handful of cherry tomatoes cut in half
handful of flat-leaf parsley or coriander chopped
2 Tbsp lemon juice
Method
Put the couscous in a medium sized bowl. Put the stock and 1 tablespoon of olive oil in a small saucepan and as soon as it starts to boil, take it off the heat and pour it over the couscous. Cover and set aside for 5 minutes.
Add a knob of butter to the couscous and fluff it with a fork. When the couscous has cooled, add the onion, cucumber, onion, parsley or coriander, capsicum, tomatoes and toss.
Louisa Peterson from Delivery Hero home delivery solutions for Australians. Louisa is a food, travel and lifestyle blogger who is trying to kick her chocolate addiction. When she isn't blogging about all things food-related, she still enjoys hitting the kitchen to try out new recipes (especially if they're quick and healthy!), travelling and going to the beach.